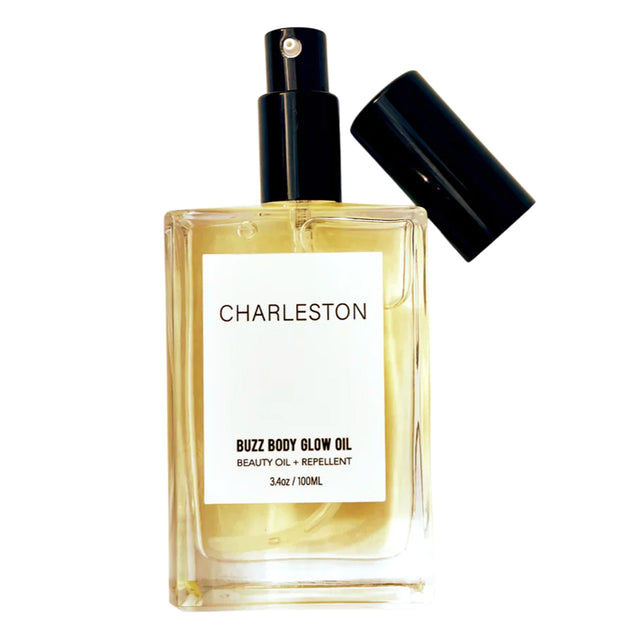 The Buzz Glow Buzz Body Oil- Charleston
$ 80.00
/ DUAL  ACTION / Illuminating  BODY OIL  +  INSECT REPELLENT/
Multi-talented illuminating body GLOW goes above and beyond, delivering intensive hydration and vitamin enhancing goodness to give you the dewy, soft, healthy-looking skin you crave AND REPELS INSECTS Naturally!!!
BUZZ BODY GLOW OIL is made with the same impossibly deluxe 'CHARLESTON' scent. GLOW oil is a life-changing FRAGRANT body oil that dubs NATURALLY as a repellent. Boosts radiant skin with incredibly hydrating and beautifully scented oils which sink into skin while creating a thin barrier for bugs and truly leave you glowing!
CHARLESTON Body oil easily absorbs into skin and leaves a lingering fresh floral scent. Reimagine skincare that can multi-task, repairing andrepelling insects naturally.
 Non-Greasy, Non-Acnegenic
 

Jojoba Oil:

Anti-inflammatory, Anti-Aging properties, Reduces redness effects of eczema and rosacea, Calms and smooths skin

Almond Oil:

Vitamin E, Zinc, proteins, and potassium

 
CLEAN + SIMPLE Ingredients: Jojoba Oil, Almond Oil, Proprietary blend of All- Natural Essential Oils/ Fragrance.
CHARLESTION SCENT NOTES:  TOP: Grapefruit, Pineapple, Tangerine //HEART: Peony, Vanilla, Jasmine // BASE: Woody Notes & Oakmoss
SKINCARE TIP: 

LAYER WITH THE PERFUME FOR EXTRA BUG PROTECTION.
Use: Pump oil into hands and apply directly into skin. Let it absorb for 10-20 seconds. Reapply as needed. Wash hands after handling to avoid contact with eyes and mouth.
3.4OZ / 100ML Bottle 
VEGAN. CRUELTY-Free, NON-GMO, PARABEN FREE, AMAZING!!
---